The printable version is no longer supported and may have rendering errors. Please update your browser bookmarks and please use the default browser print function instead.
Request Crafting
Request crafting replaced the Basic Crafting in Episode VII. The materials required are mostly the same with additional recipes added. All requests are made by talking to NPC Chloe.

The following image is numbered for identification of each parts and labelled below it.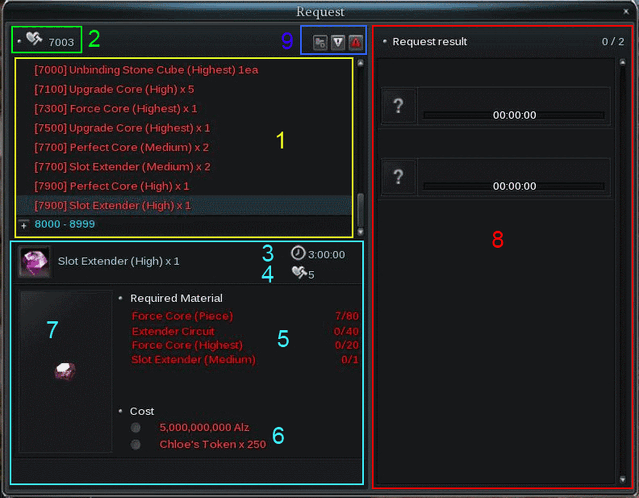 1. Craft selection.
2. Your amity level.
3. Time the request takes to complete.
4. Amity gained from the request
5. Materials needed to request craft.
6. Cost to learn the request craft.
7. Image of the craft.
8. List of current requests or available request slots.
9. Sorting Options (Favourites is now just a star)

All Crafts
0-999 Amity
Image
Item name
Reagent
Amity
Amity gain
Register cost

Force Blader Battle Mode3 (Lv.2)

10 x Stain Clone

1 x Trance Force II

0
0
N/A

Force Blader Battle Mode3 (Lv.3)

15 x Stain Clone

1 x Trance Force III

0
0
N/A

New Material Development Support (Daily Quest)

3 x Upgrade Core (Highest)
0
0
N/A

Coin Lotto (Forgotten Ruin)

1x

Lotto Coin (Forgotten Ruin)

0
0
N/A

Coin Lotto (Lakeside)

1 x

Lotto Coin (Lakeside)

2 x Coin Lotto Certificate

0
0
N/A

Coin Lotto (Mutant Forest)

1 x

Lotto Coin (Mutant Forest)

4 x Coin Lotto Certificate

0
0
N/A

Coin Lotto (Pontus Ferrum)

1 x

Lotto Coin (Pontus Ferrum)

6 x Coin Lotto Certificate

0
0
N/A

Coin Lotto (Porta Inferno)

1 x

Lotto Coin (Porta Inferno)

8 x Coin Lotto Certificate

0
0
N/A

Coin Lotto (Arcane Trace)

1 x

Lotto Coin (Arcane Trace)

10 x Coin Lotto Certificate

0
0
N/A

Bike Epic Converter Box (Lv. 2)

1 x

Bike Parts (Lv. 2)

20 x Material Core (Bike)

50 x Upgrade Core (Piece)

0
0
N/A

Bike Epic Converter Box (Lv. 3)

1 x

Bike Parts (Lv. 3)

20 x Material Core (Bike)

50 x Upgrade Core (Piece)

20 x Upgrade Core (High)

0
0
N/A

Bike Epic Converter Box (Lv. 4)

1 x

Bike Parts (Highest)

20 x Material Core (Bike)

50 x Upgrade Core (Piece)

0
0
N/A

Extreme Core Pocket (Normal) I

5 x Upgrade Core (Highest)

1 x Stain Clone

0
0
N/A
Repair Kit Box
1 x

Repair Kit Certificate

5 x Stain Clone

50 x Extreme Core (Piece)

0
0
N/A

Mirror of Observation (Bronze)

5 x Upgrade Core (Highest)
0
0
N/A

Mirror of Observation (Silver)

1x

Mirror of Observation (Bronze)

10 x Effector Core (Piece)

0
0
N/A

Extreme Core Pocket (Normal) II

20 x

Extreme Core (Piece)

0
0
N/A

Astral Board Card - K Violet I

1 x

Astral Board Card - K Red

1 x Board Tuning Kit - Violet

0
0
N/A

Astral Board Card - K Violet II

1 x

Astral Board Card - K Red Crystal Edition

1 x Board Tuning Kit - Violet

0
0
N/A

Skill Book (Aqua Aura)

1 x Stain Clone

1 x The Soul Key

0
0
N/A

Skill Book (Ice Aura)

1 x Stain Clone

1 x The Soul Key

0
0
N/A

Skill Book (Flame Aura)

1 x Stain Clone

1 x The Soul Key

0
0
N/A

Skill Book (Lightning Aura)

1 x Stain Clone

1 x The Soul Key

0
0
N/A
Luxury Jewelry Box
20 x Upgrade Core (High)

20 x Force Core (High)

0
0
N/A

Bike Epic Converter Box (Lv. 5)

1 x

Bike Parts (Lv 5)

20 x Material Core (Bike)

50 x Upgrade Core (Piece)

0
0
N/A
Luxury Suitcase
10 x Upgrade Core (Medium)

10 x Force Core (Medium)

0
0
N/A
Sword Damage Amplifier (Lv 1) x 100
20 x Material Core (Titanium)

10 x Mixture (Lv 1)

0
10

1,000,000

Alz
Magic Damage Amplifier (Lv 1) x 100
20 x Quartz Core (Pherystin)

10 x Mixture (Lv 1)

0
10

1,000,000

Alz
Sealed Mergaheph's ring
25 x

Sealed Core of Mergaheph

0
8

99,000,000

Alz

5 x Chloe's Token

Killian's Ring
1 x The Mergaheph's ring

1 x Black Cat's Tear

0
8

1,000,000

Alz
Material Core (Titanium) x 20
30 x Material Core (Bluestin)
0
8

1,000,000

Alz
Quartz Core (Pherystin) x 20
30 x Quartz Core (Bluestin)
0
8

1,000,000

Alz

Stain Clone Set

5 x

Stain Clone (Char B)

0
8

10,000,000

Alz

1 x Chloe's Token

Tempus' Ring
1 x Killian's Ring

1 x Powerless Tempus' Ring

0
7

300,000,000

Alz

15 x Chloe's Token

Rare Muster Card : Forgotten Temple B2F
1 x Muster Card: Forgotten Temple B1F

1 x Muster Card : Forgotten Temple B2F

0
7

10,000,000

Alz

Awakened Tyrant's Ring

1 x Leth Tyrant's Ring

1 x Cursed Leth Tyrant's Ring

0
7

300,000,000

Alz

15 x Chloe's Token

Unusual Lost Island Compass
1 x Lost Island Compass
0
7

10,000,000

Alz

Sealed Siena's Bracelet

3 x Piece of Prideus's Bracelet

1 x Piece of Siena's Bracelet

0
7

500,000,000

Alz

25 x Chloe's Token

Convert Sword Damage Amplifier (Lv 1)
100 x Magic Damage Amplifier (Lv 1)
0
0

1,000,000

Alz
Convert Magic Damage Amplifier (Lv 1)
100 x Sword Damage Amplifier (Lv 1)
0
0

1,000,000

Alz
Chaos Talisman of Destruction
1 x Crystal of Ruin

1 x Crystal of Destruction

1 x Chaos Talisman + 10

0
7

800,000,000

Alz

Rune Slot Extender

10 x

Orb of Fire

10 x Orb of Wind

10 x Orb of Earth

10 x Orb of Ice

0
7

200,000,000

Alz

Unbound Cube of Honor (Low)

1 x

Cube of Honor (Low)(Char B)

1 x Cube of Honor Trade Certificate

0
3

5,000,000

Alz

Unbound Cube of Honor (Medium)

1 x

Cube of Honor (Medium)(Char B)

2 x Cube of Honor Trade Certificate

0
3

10,000,000

Alz

Unbound Cube of Honor (High)

1 x

Cube of Honor (High)(Char B)

3 x Cube of Honor Trade Certificate

0
3

15,000,000

Alz

Unbound Cube of Honor (Highest)

1 x

Cube of Honor (Highest)(Char B)

4 x Cub e of Honor Trade Certificate

0
3

20,000,000

Alz

Ring of Dr. Maxel

1 x

Awakened Tyrant's Ring

1 x Cursed Ring of Dr. Mazel

0
7

600,000,000

Alz

Shiny Jewel of Nix

1 x

Broken Tiara of Nix

0
3

50,000,000

Alz

Essence Rune (STR II)

100 x

Dragon's essence of Light

100 x Dragon's essence of Darkness

0
0

10,000,000

Alz

5 x Chloe's Token

Essence Rune (Resist Critical Rate)

10 x

Essence of Low Level Ruler

6 x Essence of Med Level Ruler

4 x Essence of High Level Ruler

2 x Essence of Highest Level Ruler

0
0

50,000,000

Alz
Plasma Circuit x 5
3 x Unknown Circuit

20 x Upgrade Core (Piece)

100
10

5,000,000

Alz
Extender Circuit x 5
3 x Unknown Circuit

20 x Force Core (Piece)

100
10

5,000,000

Alz
Map Part
1 x Illusion Coral
200
10

500,000

Alz
Muster Card: Ruina Station
1 x Machinery Head
200
10

500,000

Alz
Extract Potion (STR) x 5
1 x Empty Bottle

3 x Soul Disc (Lv. 2)

5 x Shining Tooth

300
9

20,000,000

Alz

1 x Chloe's Token

Extract Potion (DEX) x 5
1 x Empty Bottle

3 x Soul Disc (Lv. 2)

5 x Blue Feather

300
9

20,000,000

Alz

1 x Chloe's Token

Extract Potion (INT) x 5
1 x Empty Bottle

3 x Soul Disc (Lv. 2)

5 x Strange Stem

300
9

20,000,000

Alz

1 x Chloe's Token

Diamond Cube

5 x Minesta's Diamond Charm
500
7

100,000,000

Alz

5 x Chloe's Token

Minesta's Sapphire Charm +1
1 x Minesta's Sapphire Charm

4 x Stain Clone

500
10

10,000,000

Alz

1 x Chloe's Token

Minesta's Ruby Charm +1
1 x Minesta's Ruby Charm

4 x Stain Clone

500
10

10,000,000

Alz

1 x Chloe's Token

Minesta's Emerald Charm +1
1 x Minesta's Emerald Charm

4 x Stain Clone

500
10

10,000,000

Alz

1 x Chloe's Token

Minesta's Amber Charm +1
1 x Minesta's Amber Charm

4 x Stain Clone

500
10

10,000,000

Alz

1 x Chloe's Token

Minesta's Amethyst Charm +1
1 x Minesta's Amethyst Charm

4 x Stain Clone

500
10

10,000,000

Alz

1 x Chloe's Token

Force Essence
1 x Force Core (Low)
500
3

10,000,000

Alz
1000-1999 Amity
Image
Item name
Reagent
Amity
Amity gain
Register cost
Sword Damage Amplifier (Lv 2) x 100
20 x Material Core (Shadowtitanium)

10 x Mixture (Lv 2)

1000
10

2,000,000

Alz
Magic Damage Amplifier (Lv 2) x 100
20 x Quartz Core (Aqua)

10 x Mixture (Lv 2)

1000
10

2,000,000

Alz
Material Core (Shadowtitanium) x 20
30 x Material Core (Titanium)
1000
8

1,200,000

Alz
Quartz Core (Aqua) x 20
30 x Quartz Core (Pherystin)
1000
8

1,200,000

Alz

Cartridge Roulette (Lv 2)

5 x Shape Cartridge (Lv 1)
1000
8

5,000,000

Alz
Convert Sword Damage Amplifier (Lv 2)
100 x Magic Damage Amplifier (Lv 2)
1000
0

2,000,000

Alz
Convert Magic Damage Amplifier (Lv 2)
100 x Sword Damage Amplifier (Lv 2)
1000
0

2,000,000

Alz
Force Essence x 2
1 x Force Core (Medium)
1000
0

20,000,000

Alz
Upgrade Core (Crystal) x 5
1 x Upgrade Core (High)

20 x Upgrade Core (Piece)

1100
10

5,000,000

Alz
Force Core (Crystal) x 5
1 x Force Core (High)

20 x Force Core (Piece)

1100
10

5,000,000

Alz
Plasma Circuit x 10
3 x Unknown Circuit

50 x Upgrade Core (Piece)

1200
10

7,500,000

Alz
Extender Circuit x 10
3 x Unknown Circuit

50 x Force Core (Piece)

1200
10

7,500,000

Alz
Epaulet of the Dead
1 x Astral Skull
1300
10

1,000,000

Alz
Seal of the Darkness
1 x Infernal Ruby
1300
10

1,000,000

Alz
Minesta's Sapphire Charm +2
1 x Minesta's Sapphire Charm +1

6 x Stain Clone

1500
10

20,000,000

Alz

1 x Chloe's Token

Minesta's Ruby Charm +2
1 x Minesta's Ruby Charm +1

6 x Stain Clone

1500
10

20,000,000

Alz

1 x Chloe's Token

Minesta's Emerald Charm +2
1 x Minesta's Emerald Charm +1

6 x Stain Clone

1500
10

20,000,000

Alz

1 x Chloe's Token

Minesta's Amber Charm +2
1 x Minesta's Amber Charm +1

6 x Stain Clone

1500
10

20,000,000

Alz

1 x Chloe's Token

Minesta's Amethyst Charm +2
1 x Minesta's Amethyst Charm +1

6 x Stain Clone

1500
10

20,000,000

Alz

1 x Chloe's Token

Upgrade Core Set (Low)
1 x Upgrade Core (Low)
1500
0

1,000,000

Alz
Upgrade Core Set (Medium)
1 x Upgrade Core (Medium)
1500
0

2,000,000

Alz
Upgrade Core Set (High)
1 x Upgrade Core (High)
1500
0

4,000,000

Alz
Upgrade Core Set (Highest)
1 x Upgrade Core (Highest)
1500
0

8,000,000

Alz

Upgrade Core Set (Ultimate)

1 x Upgrade Core (Ultimate)
1500
0

10,000,000

Alz

Chaos Core Set

1 x Chaos Core
1500
0

20,000,000

Alz

Divine Stone Set

1 x

Divine Core

1500
0

30,000,000

Alz

Flame Dice (Lv 2)

100 x Flame Disc (Lv 1)

20 x Force Core (Crystal)

1600
15

5,000,000

Alz

Dark Dice (Lv 2)

100 x Dark Disc (Lv 1)

20 x Force Core (Crystal)

1600
15

5,000,000

Alz

Holy Dice (Lv 2)

100 x Holy Disc (Lv 1)

20 x Force Core (Crystal)

1600
15

5,000,000

Alz

Air Dice (Lv 2)

100 x Air Disc (Lv 1)

20 x Force Core (Crystal)

1600
15

5,000,000

Alz

Thunder Dice (Lv 2)

100 x Thunder Disc (Lv 1)

20 x Force Core (Crystal)

1600
15

5,000,000

Alz

Bloody Dice (Lv 2)

100 x Bloody Disc (Lv 1)

20 x Force Core (Crystal)

1600
15

5,000,000

Alz

Earth Dice (Lv 2)

100 x Earth Disc (Lv 1)

20 x Force Core (Crystal)

1600
15

5,000,000

Alz

Aqua Dice (Lv 2)

100 x Aqua Disc (Lv 1)

20 x Force Core (Crystal)

1600
15

5,000,000

Alz

Soul Dice (Lv 2)

100 x Soul Disc (Lv 1)

20 x Force Core (Crystal)

1600
15

5,000,000

Alz
Concentration Potion (Lv 1) x 5
1 x Empty Bottle

5 x Blue Feather

1700
9

10,000,000

Alz

1 x Chloe's Token

Reflex Potion (Lv 1) x 5
1 x Empty Bottle

3 x Mirror Stone

5 x Blue Feather

1700
9

10,000,000

Alz

1 x Chloe's Token

Vital Potion (Lv 1) x 5
1 x Empty Bottle

5 x Blue Feather

1800
9

10,000,000

Alz

1 x Chloe's Token

Sharpness Potion (Lv 1) x 5
1 x Empty Bottle

1 x Concentration Potion (Lv 1)

5 x Shining Tooth

1900
9

10,000,000

Alz

1 x Chloe's Token

Mana Condense Potion (Lv 1) x 5
1 x Empty Bottle

1 x Concentration Potion (Lv 1)

5 x Strange Stem

1900
9

10,000,000

Alz

1 x Chloe's Token
2000-2999 Amity
Image
Item name
Reagent
Amity
Amity gain
Register cost
Sword Damage Amplifier (Lv 3) x 100
20 x Material Core (Osmium)

10 x Mixture (Lv 3)

2000
10

3,000,000

Alz
Magic Damage Amplifier (Lv 3) x 100
20 x Quartz Core (Lapis)

10 x Mixture (Lv 3)

2000
10

3,000,000

Alz
Material Core (Osmium) x 20
30 x Material Core (Shadowtitanium)
2000
8

1,400,000

Alz
Quartz Core (Lapis) x 20
30 x Quartz Core (Aqua)
2000
8

1,400,000

Alz
Convert Sword Damage Amplifier (Lv 3)
100 x Magic Damage Amplifier (Lv 3)
2000
0

3,000,000

Alz
Convert Magic Damage Amplifier (Lv 3)
100 x Sword Damage Amplifier (Lv 3)
2000
0

3,000,000

Alz
Force Essence x 3
1 x Force Core (High)
2000
3

30,000,000

Alz
Upgrade Core (Crystal) x 10
1 x Upgrade Core (High)

50 x Upgrade Core (Piece)

2200
10

7,500,000

Alz
Force Core (Crystal) x 10
1 x Force Core (High)

50 x Force Core (Piece)

2200
10

7,500,000

Alz
Epaulet of the Dead (B2F) Part1
1 x Astral Skull
2300
10

1,500,000

Alz
Muster Card: Forgotten Temple B1F
1 x Beetle Shell
2300
10

1,500,000

Alz
Minesta's Sapphire Charm +3
1 x Minesta's Sapphire Charm +2

7 x Stain Clone

2500
10

40,000,000

Alz

2 x Chloe's Token

Minesta's Ruby Charm +3
1 x Minesta's Ruby Charm +2

7 x Stain Clone

2500
10

40,000,000

Alz

2 x Chloe's Token

Minesta's Emerald Charm +3
1 x Minesta's Emerald Charm +2

7 x Stain Clone

2500
10

40,000,000

Alz

2 x Chloe's Token

Minesta's Amber Charm +3
1 x Minesta's Amber Charm +2

7 x Stain Clone

2500
10

40,000,000

Alz

2 x Chloe's Token

Minesta's Amethyst Charm +3
1 x Minesta's Amethyst Charm +2

7 x Stain Clone

2500
10

40,000,000

Alz

2 x Chloe's Token

Upgrade Core Set (Low) x 3
3 x Upgrade Core (Low)
2500
0

3,000,000

Alz
Upgrade Core Set (Medium) x 3
3 x Upgrade Core (Medium)
2500
0

6,000,000

Alz
Upgrade Core Set (High) x 3
3 x Upgrade Core (High)
2500
0

12,000,000

Alz
Upgrade Core Set (Highest) x 3
3 x Upgrade Core (Highest)
2500
0

24,000,000

Alz

Upgrade Core Set (Ultimate)

x 3
3 x Upgrade Core (Ultimate)
2500
0

30,000,000

Alz

Chaos Core Set

x 3
3 x Chaos Core
2500
0

60,000,000

Alz

Divine Stone Set

x 3
3 x

Divine Core

2500
0

90,000,000

Alz
Concentration Potion (Lv 2) x 5
1 x Empty Bottle

2 x Concentration Potion (Lv 1)

5 x Blue Feather

2600
9

20,000,000

Alz

1 x Chloe's Token

Reflex Potion (Lv 2) x 5
1 x Empty Bottle

5 x Mirror Stone

2600
9

20,000,000

Alz

1 x Chloe's Token

Vital Potion (Lv 2) x 5
1 x Empty Bottle

3 x Soul Disc (Lv 2)

2700
9

20,000,000

Alz

1 x Chloe's Token

Sharpness Potion (Lv 2) x 5
1 x Empty Bottle

5 x Shining Tooth

2800
9

20,000,000

Alz

1 x Chloe's Token

Mana Condense Potion (Lv 2) x 5
1 x Empty Bottle

2 x Mana Condense Potion (Lv 1)

5 x Strange Stem

2800
9

20,000,000

Alz

1 x Chloe's Token

Vital Regen Potion (Lv 1) x 5
1 x Empty Bottle

3 x Aqua Disc (Lv 1)

2900
9

15,000,000

Alz

1 x Chloe's Token

Hardness Potion (Lv 1) x 5
1 x Empty Bottle

5 x Hard Shell

2900
9

15,000,000

Alz

1 x Chloe's Token

Strike Potion (Lv 1) x 5
1 x Empty Bottle

5 x Yellow Jewel

2900
9

15,000,000

Alz

1 x Chloe's Token
3000-3999 Amity
Image
Item name
Reagent
Amity
Amity gain
Register cost
Sword Damage Amplifier (Lv 4) x 100
20 x Material Core (Redosmium)

10 x Mixture (Lv 4)

3000
10

4,000,000

Alz
Magic Damage Amplifier (Lv 4) x 100
20 x Quartz Core (Topaz)

10 x Mixture (Lv 4)

3000
10

4,000,000

Alz
Material Core (Redosmium) x 20
30 x Material Core (Osmium)
3000
8

1,600,000

Alz
Quartz Core (Topaz) x 20
30 x Quartz Core (Lapis)
3000
8

1,600,000

Alz

Cartridge Roulette (Lv 3)

5 x Shape Cartridge (Lv 2)
3000
8

10,000,000

Alz

1 x Chloe's Token

Convert Sword Damage Amplifier (Lv 4)
100 x Magic Damage Amplifier (Lv 4)
3000
0

4,000,000

Alz
Convert Magic Damage Amplifier (Lv 4)
100 x Sword Damage Amplifier (Lv 4)
3000
0

4,000,000

Alz
Force Essence x 4
1 x Force Core (Highest)
3000
3

40,000,000

Alz
Concentration Potion (Lv 3) x 5
1 x Empty Bottle

2 x Concentration Potion (Lv 2)

5 x Blue Feather

3200
9

30,000,000

Alz

2 x Chloe's Token

Reflex Potion (Lv 3) x 5
1 x Empty Bottle

5 x Mirror Stone

3200
9

30,000,000

Alz

2 x Chloe's Token

Copy of the Illusive Apocalypse
1 x Illusion Coral
3300
10

2,000,000

Alz
Siena's Crest B1F
1 x Parasited Berry
3300
10

2,000,000

Alz
Vital Potion (Lv 3) x 5
1 x Empty Bottle

3 x Soul Disc (Lv 3)

3400
9

30,000,000

Alz

2 x Chloe's Token

Minesta's Sapphire Charm +4
1 x Minesta's Sapphire Charm +3

8 x Stain Clone

3500
10

80,000,000

Alz

4 x Chloe's Token

Minesta's Ruby Charm +4
1 x Minesta's Ruby Charm +3

8 x Stain Clone
6 x Upgrade Core (Highest)

3500
10

80,000,000

Alz

4 x Chloe's Token

Minesta's Emerald Charm +4
1 x Minesta's Emerald Charm +3
3500
10

80,000,000

Alz

4 x Chloe's Token

Minesta's Amber Charm +4
1 x Minesta's Amber Charm +3

8 x Stain Clone
6 x Upgrade Core (Highest)

3500
10

80,000,000

Alz

4 x Chloe's Token

Minesta's Amethyst Charm +4
1 x Minesta's Amethyst Charm +3
3500
10

80,000,000

Alz

4 x Chloe's Token

Extreme Core Pocket (Rare)

2 x

Extreme Core (Lv 1)

2 x Extreme Core (Lv 2)
2 x Extreme Core (Lv 3)
2 x Extreme Core (Lv 4)

3500
11

30,000,000

Alz

2 x Chloe's Token

Upgrade Core Set (Low) x 8
8 x Upgrade Core (Low)
3500
0

5,000,000

Alz
Upgrade Core Set (Medium) x 8
8 x Upgrade Core (Medium)
3500
0

10,000,000

Alz
Upgrade Core Set (High) x 8
8 x Upgrade Core (High)
3500
0

20,000,000

Alz
Upgrade Core Set (Highest) x 8
8 x Upgrade Core (Highest)
3500
0

40,000,000

Alz

Upgrade Core Set (Ultimate)

x 8
8 x Upgrade Core (Ultimate)
3500
0

50,000,000

Alz

Chaos Core Set

x 8
8 x Chaos Core
3500
0

100,000,000

Alz

Divine Core Set

x 8
8 x

Divine Core

3500
0

150,000,000

Alz
Sharpness Potion (Lv 3) x 5
1 x Empty Bottle

5 x Shining Tooth

3700
9

30,000,000

Alz

2 x Chloe's Token

Mana Condense Potion (Lv 3) x 5
1 x Empty Bottle

2 x Mana Condense Potion (Lv 2)

5 x Strange Stem

3700
9

30,000,000

Alz

2 x Chloe's Token

Vital Regen Potion (Lv 2) x 5
1 x Empty Bottle

3 x Aqua Disc (Lv 2)

3800
9

25,000,000

Alz

2 x Chloe's Token

Hardness Potion (Lv 2) x 5
1 x Empty Bottle

5 x Hard Shell

3800
9

25,000,000

Alz

2 x Chloe's Token

Strike Potion (Lv 2) x 5
1 x Empty Bottle

5 x Yellow Jewel

3800
9

25,000,000

Alz

2 x Chloe's Token

Fury Potion (Lv 1) x 5
1 x Empty Bottle

3 x Air Disc (Lv 1)

1 x Powerless Core

3900
9

20,000,000

Alz

1 x Chloe's Token

Sword Master Potion (Lv 1)

x 5
1 x Empty Bottle

1 x Familiar Mineral

3900
9

20,000,000

Alz

1 x Chloe's Token

Magic Master Potion (Lv 1)

x 5
1 x Empty Bottle

1 x Familiar Mineral

3900
9

20,000,000

Alz

1 x Chloe's Token

Evasion Potion (Lv 1)

x 5
1 x Empty Bottle

1 x Silver Jewel

3900
9

20,000,000

Alz

1 x Chloe's Token
4000-4999 Amity
Image
Item name
Reagent
Amity
Amity gain
Register cost
Sword Damage Amplifier (Lv 5) x 100
20 x Material Core (SIGMetal)

10 x Mixture (Lv 5)

4000
10

5,000,000

Alz
Magic Damage Amplifier (Lv 5) x 100
20 x Quartz Core (SIGMetal)

10 x Mixture (Lv 5)

4000
10

5,000,000

Alz
Material Core (SIGMetal) x 20
30 x Material Core (Red Osmium)
4000
8

1,800,000

Alz
Quartz Core (SIGMetal) x 20
30 x Quartz Core (Topaz)
4000
8

1,800,000

Alz
Convert Sword Damage Amplifier (Lv 5)
100 x Magic Damage Amplifier (Lv 5)
4000
0

5,000,000

Alz
Convert Magic Damage Amplifier (Lv 5)
100 x Sword Damage Amplifier (Lv 5)
4000
0

5,000,000

Alz
Force Essence x 5
1 x

Force Core (Ultimate)

4000
3

50,000,000

Alz

Concentration Potion (Lv 4)

x 5
1 x Empty Bottle

2 x Concentration Potion (Lv 3)

5 x Blue Feather

4200
9

40,000,000

Alz

2 x Chloe's Token

Reflex Potion (Lv 4)

x 5
1 x Empty Bottle

5 x Mirror Stone

4200
9

40,000,000

Alz

2 x Chloe's Token

Lost Island Compass
1 x Infernal Ruby
4300
10

2,500,000

Alz
Siena's Crest B2F
1 x Parasited Berry
4300
10

2,500,000

Alz

Vital Potion (Lv 4)

x 5
1 x Empty Bottle

3 x Soul Disc (Lv 4)

4400
9

40,000,000

Alz

2 x Chloe's Token

Minesta's Sapphire Charm +5
1 x Minesta's Sapphire Charm +4

11 x Stain Clone

4500
10

150,000,000

Alz

8 x Chloe's Token

Minesta's Ruby Charm +5
1 x Minesta's Ruby Charm +4

11 x Stain Clone

4500
10

150,000,000

Alz

8 x Chloe's Token

Minesta's Emerald Charm +5
1 x Minesta's Emerald Charm +4

11 x Stain Clone

4500
10

150,000,000

Alz

8 x Chloe's Token

Minesta's Amber Charm +5
1 x Minesta's Amber Charm +4

11 x Stain Clone

4500
10

150,000,000

Alz

8 x Chloe's Token

Minesta's Amethyst Charm +5
1 x Minesta's Amethyst Charm +4

11 x Stain Clone

4500
10

150,000,000

Alz

8 x Chloe's Token

Chaos Core
10 x Fragment of Chaos
4500
11

10,000,000

Alz

1 x Chloe's Token

Divine Stone

10 x

Fragment of Divine Core

4500
11

10,000,000

Alz

1 x Chloe's Token

Upgrade Core Set (Low) x 15
15 x Upgrade Core (Low)
4500
0

7,000,000

Alz
Upgrade Core Set (Medium) x 15
15 x Upgrade Core (Medium)
4500
0

14,000,000

Alz
Upgrade Core Set (High) x 15
15 x Upgrade Core (High)
4500
0

28,000,000

Alz
Upgrade Core Set (Highest) x 15
15 x Upgrade Core (Highest)
4500
0

56,000,000

Alz

Upgrade Core Set (Ultimate)

x 15
15 x Upgrade Core (Ultimate)
4500
0

70,000,000

Alz

Chaos Core Set

x 15
15 x Chaos Core
4500
0

140,000,000

Alz

Divine Core Set

x 15
15 x

Divine Core

4500
0

210,000,000

Alz

Sharpness Potion (Lv 4)

x 5
1 x Empty Bottle

5 x Shining Tooth

4600
9

40,000,000

Alz

2 x Chloe's Token

Mana Condense Potion (Lv 4)

x 5
1 x Empty Bottle

2 x Mana Condense Potion (Lv 3)

5 x Strange Stem

4600
9

40,000,000

Alz

2 x Chloe's Token

Flame Dice (Lv 3)

100 x Flame Disc (Lv 2)

20 x Force Core (Crystal)

4600
15

10,000,000

Alz

Dark Dice (Lv 3)

100 x Dark Disc (Lv 2)

20 x Force Core (Crystal)

4600
15

10,000,000

Alz

Holy Dice (Lv 3)

100 x Holy Disc (Lv 2)

20 x Force Core (Crystal)

4600
15

10,000,000

Alz

Air Dice (Lv 3)

100 x Air Disc (Lv 2)

20 x Force Core (Crystal)

4600
15

10,000,000

Alz

Thunder Dice (Lv 3)

100 x Thunder Disc (Lv 2)

20 x Force Core (Crystal)

4600
15

10,000,000

Alz

Bloody Dice (Lv 3)

100 x Bloody Disc (Lv 2)

20 x Force Core (Crystal)

4600
15

10,000,000

Alz

Earth Dice (Lv 3)

100 x Earth Disc (Lv 2)

20 x Force Core (Crystal)

4600
15

10,000,000

Alz

Aqua Dice (Lv 3)

100 x Aqua Disc (Lv 2)

20 x Force Core (Crystal)

4600
15

10,000,000

Alz

Soul Dice (Lv 3)

100 x Soul Disc (Lv 2)

20 x Force Core (Crystal)

4600
15

10,000,000

Alz
Vital Regen Potion (Lv 3) x 5
1 x Empty Bottle

3 x Aqua Disc (Lv 3)

4700
9

35,000,000

Alz

2 x Chloe's Token

Hardness Potion (Lv 3) x 5
1 x Empty Bottle

5 x Hard Shell

4700
9

35,000,000

Alz

2 x Chloe's Token

Strike Potion (Lv 3) x 5
1 x Empty Bottle

5 x Yellow Jewel

4700
9

35,000,000

Alz

2 x Chloe's Token

Fury Potion (Lv 2) x 5
1 x Empty Bottle

3 x Air Disc (Lv 2)

1 x Powerful Core

4800
9

30,000,000

Alz

2 x Chloe's Token

Sword Master Potion (Lv 2)

x 5
1 x Empty Bottle
4800
9

30,000,000

Alz

2 x Chloe's Token

Magic Master Potion (Lv 2)

x 5
1 x Empty Bottle

1 x Mana Condense Potion (Lv 1)

4800
9

30,000,000

Alz

2 x Chloe's Token

Evasion Potion (Lv 2)

x 5
1 x Empty Bottle
4800
9

30,000,000

Alz

2 x Chloe's Token

Force Core (Low)
20 x Force Core (Piece)
4800
11

10,000,000

Alz

1 x Chloe's Token

Upgrade Core (Low)
20 x Upgrade Core (Piece)
4900
11

10,000,000

Alz

1 x Chloe's Token
5000-5999 Amity
Image
Item name
Reagent
Amity
Amity gain
Register cost
Sword Damage Amplifier (Lv 6) x 100
20 x Material Core (Forcium)

10 x Mixture (Lv 6)

5000
3

6,000,000

Alz
Magic Damage Amplifier (Lv 6) x 100
20 x Quartz Core (Forcium)

10 x Mixture (Lv 6)

5000
3

6,000,000

Alz
Material Core (Forcium) x 20
30 x Material Core (SIGMetal)
5000
1

2,000,000

Alz
Quartz Core (Forcium) x 20
30 x Quartz Core (SIGMetal)
5000
1

2,000,000

Alz

Cartridge Roulette (Lv 4)

5 x Shape Cartridge (Lv 3)
5000
1

15,000,000

Alz

1 x Chloe's Token

Unbinding Stone Cube (Medium)

1 x

Gem of Liberation

18 x Stain Clone

5000
5

100,000,000

Alz

8 x Chloe's Token

Convert Sword Damage Amplifier (Lv 6)
100 x Magic Damage Amplifier (Lv 6)
5000
0

6,000,000

Alz
Convert Magic Damage Amplifier (Lv 6)
100 x Sword Damage Amplifier (Lv 6)
5000
0

6,000,000

Alz

Vital Regen Potion (Lv 4)

x 5
1 x Empty Bottle

3 x Aqua Disc (Lv 4)

5200
2

45,000,000

Alz

3 x Chloe's Token

Hardness Potion (Lv 4)

x 5
1 x Empty Bottle

5 x Hard Shell

5200
2

45,000,000

Alz

3 x Chloe's Token

Strike Potion (Lv 4)

x 5
1 x Empty Bottle

5 x Yellow Jewel

5200
2

45,000,000

Alz

3 x Chloe's Token

Apocalypse of Other Dimension
1 x Illusion Coral
5300
3

3,000,000

Alz
Muster Card : Forgotten Temple B2F
1 x

Bettle Shell

5300
3

3,000,000

Alz
Fury Potion (Lv 3) x 5
1 x Empty Bottle

3 x Air Disc (Lv 3)

5400
2

40,000,000

Alz

2 x Chloe's Token

Sword Master Potion (Lv 3)

x 5
1 x Empty Bottle
5400
2

40,000,000

Alz

2 x Chloe's Token

Magic Master Potion (Lv 3)

x 5
1 x Empty Bottle

1 x Mana Condense Potion (Lv 2)

5400
2

40,000,000

Alz

2 x Chloe's Token

Evasion Potion (Lv 3)

x 5
1 x Empty Bottle
5400
2

40,000,000

Alz

2 x Chloe's Token

Minesta's Sapphire Charm +6
1 x Minesta's Sapphire Charm +5

13 x Stain Clone

5500
0

300,000,000

Alz

15 x Chloe's Token

Minesta's Ruby Charm +6
1 x Minesta's Ruby Charm +5

13 x Stain Clone

5500
0

300,000,000

Alz

15 x Chloe's Token

Minesta's Emerald Charm +6
1 x Minesta's Emerald Charm +5

13 x Stain Clone

5500
0

300,000,000

Alz

15 x Chloe's Token

Minesta's Amber Charm +6
1 x Minesta's Amber Charm +5

13 x Stain Clone

5500
0

300,000,000

Alz

15 x Chloe's Token

Minesta's Amethyst Charm +6
1 x Minesta's Amethyst Charm +5

13 x Stain Clone

5500
0

300,000,000

Alz

15 x Chloe's Token

Force Core (Low) x 5
80 x Force Core (Piece)
5500
4

37,500,000

Alz

2 x Chloe's Token

Extreme Core Pocket (Epic)

2 x

Extreme Core (Lv 5)

2 x Extreme Core (Lv 6)

2 x Extreme Core (Lv 7)

5500
4

45,000,000

Alz

3 x Chloe's Token

Chaos Core x 3
30 x Fragment of Chaos
5500
4

27,000,000

Alz

3 x Chloe's Token

Divine Stone

x 3
30 x

Fragment of Divine Core

5500
4

27,000,000

Alz

3 x Chloe's Token

Merit Medal Exchange Ticket
1 x

Merit Medal Exchange Ticket (Char B)

1 x Merit Medal Trade Certificate

5500
5

5,000,000

Alz
Merit Medal Exchange Ticket x 127
127 x

Merit Medal Exchange Ticket (Char B)

1 x Merit Medal Trade Certificate (Premium)

5500
5

50,000,000

Alz

Enchant Safeguard (Divine)

50 x

Divine Core

1 x Divine Purification Scroll

1 x Unrefined Divine Essence

5500
5

50,000,000

Alz

Chaos Safeguard - Chaos Belt

100 x Chaos Core

1 x Essence of Chaos Guardian (Chaos Belt)

5500
5

50,000,000

Alz

Chaos Safeguard - Chaos Talisman

100 x Chaos Core

1 x Essence of Chaos Guardian (Chaos Talisman)

5500
5

50,000,000

Alz

Chaos Safeguard - Carnelian

100 x Chaos Core

1 x Essence of Chaos Guardian (Carnelian)

5500
5

50,000,000

Alz

Chaos Safeguard - Arcana of Chaos

100 x Chaos Core

1 x Essence of Chaos Guardian (Arcana of Chaos)

5500
5

50,000,000

Alz

Chaos Safeguard - Arcana of Laws

100 x Chaos Core

1 x Essence of Chaos Guardian (Arcana of Laws)

5500
5

50,000,000

Alz

Chaos Safeguard - Arcana of Guardian

100 x Chaos Core

1 x Essence of Chaos Guardian (Arcana of Guardian)

5500
5

50,000,000

Alz
Upgrade Core Set (Low) x 30
30 x Upgrade Core (Low)
5500
0

9,000,000

Alz
Upgrade Core Set (Medium) x 30
30 x Upgrade Core (Medium)
5500
0

18,000,000

Alz
Upgrade Core Set (High) x 30
30 x Upgrade Core (High)
5500
0

36,000,000

Alz
Upgrade Core Set (Highest) x 30
30 x Upgrade Core (Highest)
5500
0

72,000,000

Alz

Upgrade Core Set (Ultimate)

x 30
30 x Upgrade Core (Ultimate)
5500
0

90,000,000

Alz

Chaos Core Set

x 30
30 x Chaos Core
5500
0

180,000,000

Alz

Divine Stone Set

x 30
30 x

Divine Core

5500
0

370,000,000

Alz

Chaos Safeguard - Earring

100 x Chaos Core

1 x Essence of Chaos Guardian (Earring)

5500
0

50,000,000

Alz

Chaos Safeguard - Amulet

100 x Chaos Core

1 x Essence of Chaos Guardian (Amulet)

5500
0

50,000,000

Alz

Chaos Safeguard - Bracelet

100 x Chaos Core

1 x Essence of Chaos Guardian (Bracelet)

5500
0

50,000,000

Alz
Upgrade Core (Low) x 5
80 x Upgrade Core (Piece)
5600
4

37,500,000

Alz

2 x Chloe's Token

Force Core (Medium)
20 x Force Core (Piece)
5700
4

20,000,000

Alz

1 x Chloe's Token

Upgrade Core (Medium)
20 x Upgrade Core (Piece)
5800
4

20,000,000

Alz

1 x Chloe's Token

Perfect Core (Low)
80 x Upgrade Core (Piece)

40 x Plasma Circuit

5900
5

500,000,000

Alz

25 x Chloe's Token

Slot Extender (Low)
80 x Force Core (Piece)

40 x Extender Circuit

20 x Force Core (Highest)

5900
5

500,000,000

Alz

25 x Chloe's Token
6000-6999 Amity
Image
Item name
Reagent
Amity
Amity gain
Register cost
Force Core (Medium) x 5
80 x Force Core (Piece)

8 x Force Core (Low)

6000
4

75,000,000

Alz

4 x Chloe's Token

Unbinding Stone Cube (High)

2 x

Gem of Liberation

24 x Stain Clone

20 x Upgrade Core (High)

6000
5

300,000,000

Alz

15 x Chloe's Token

Sword Damage Amplifier (Lv 7) x 100
20 x Material Core (Archridium)

10 x Mixture (Lv 7)

6000
3

7,000,000

Alz
Magic Damage Amplifier (Lv 7) x 100
20 x Quartz Core (Archridium)

10 x Mixture (Lv 7)

6000
3

7,000,000

Alz
Convert Sword Damage Amplifier (Lv 7) x 100
100 x Magic Damage Amplifier (Lv 7)
6000
0

7,000,000

Alz
Convert Magic Damage Amplifier (Lv 7) x 100
100 x Sword Damage Amplifier (Lv 7)
6000
0

7,000,000

Alz
Material Core (Archridium) x 20
30 x Material Core (Forcium)
6000
1

2,200,000

Alz
Quartz Core (Archridium) x 20
30 x Quartz Core (Forcium)
6000
1

2,200,000

Alz
Upgrade Core (Medium) x 5
80 x Upgrade Core (Piece)
6100
4

75,000,000

Alz

4 x Chloe's Token

Sword Master Potion (Lv 4)

x 5
1 x Empty Bottle
6200
2

50,000,000

Alz

3 x Chloe's Token

Magic Master Potion (Lv 4)

x 5
1 x Empty Bottle

1 x Mana Condense Potion (Lv 3)

6200
2

50,000,000

Alz

3 x Chloe's Token

Evasion Potion (Lv 4)

x 5
1 x Empty Bottle
6200
2

50,000,000

Alz

3 x Chloe's Token

Force Core (High)
20 x Force Core (Piece)
6300
4

30,000,000

Alz

2 x Chloe's Token

Hacked Code Disk
1 x Machinery Head
6300
3

3,500,000

Alz
Upgrade Core (High)
20 x Upgrade Core (Piece)
6400
4

30,000,000

Alz

2 x Chloe's Token

Rage Potion (Lv 3)

x 5
1 x Empty Bottle
6400
2

50,000,000

Alz

5 x Chloe's Token

Minesta's Sapphire Charm +7
1 x Minesta's Sapphire Charm +6

17 x Stain Clone

6500
0

500,000,000

Alz

25 x Chloe's Token

Minesta's Ruby Charm +7
1 x Minesta's Ruby Charm +6

17 x Stain Clone

6500
0

500,000,000

Alz

25 x Chloe's Token

Minesta's Emerald Charm +7
1 x Minesta's Emerald Charm +6

17 x Stain Clone

6500
0

500,000,000

Alz

25 x Chloe's Token

Minesta's Amber Charm +7
1 x Minesta's Amber Charm +6

17 x Stain Clone

6500
0

500,000,000

Alz

25 x Chloe's Token

Minesta's Amethyst Charm +7
1 x Minesta's Amethyst Charm +6

17 x Stain Clone

6500
0

500,000,000

Alz

25 x Chloe's Token

Chaos Core x 5
50 x Fragment of Chaos
6500
4

45,000,000

Alz

5 x Chloe's Token

Divine Stone

x 5
50 x

Fragment of Divine Core

6500
4

45,000,000

Alz

5 x Chloe's Token

Unbound Merit Medal

x 5
5 x

Merit Medal Exchange Ticket (Char B)

5 x Merit Medal Trade Certificate

6500
5

100,000,000

Alz
Perfect Core (Low) x 2
120 x Upgrade Core (Piece)

60 x Plasma Circuit

6600
5

1,200,000,000

Alz

60 x Chloe's Token

Slot Extender (Low) x 2
120 x Force Core (Piece)

60 x Extender Circuit

30 x Force Core (Highest)

6600
5

500,000,000

Alz

25 x Chloe's Token

Flame Dice (Lv 4)

100 x Flame Disc (Lv 3)

20 x Force Core (Crystal)

6600
5

15,000,000

Alz

Dark Dice (Lv 4)

100 x Dark Disc (Lv 3)

20 x Force Core (Crystal)

6600
5

15,000,000

Alz

Holy Dice (Lv 4)

100 x Holy Disc (Lv 3)

20 x Force Core (Crystal)

6600
5

15,000,000

Alz

Air Dice (Lv 4)

100 x Air Disc (Lv 3)

20 x Force Core (Crystal)

6600
5

15,000,000

Alz

Thunder Dice (Lv 4)

100 x Thunder Disc (Lv 3)

20 x Force Core (Crystal)

6600
5

15,000,000

Alz

Bloody Dice (Lv 4)

100 x Bloody Disc (Lv 3)

20 x Force Core (Crystal)

6600
5

15,000,000

Alz

Earth Dice (Lv 4)

100 x Earth Disc (Lv 3)

20 x Force Core (Crystal)

6600
5

15,000,000

Alz

Aqua Dice (Lv 4)

100 x Aqua Disc (Lv 3)

20 x Force Core (Crystal)

6600
5

15,000,000

Alz

Soul Dice (Lv 4)

100 x Soul Disc (Lv 3)

20 x Force Core (Crystal)

6600
5

15,000,000

Alz
Perfect Core (Medium)
80 x Upgrade Core (Piece)

40 x Plasma Circuit

6800
5

2,500,000,000

Alz

125 x Chloe's Token

Slot Extender (Medium)
80 x Force Core (Piece)

40 x Extender Circuit

20 x Force Core (Highest)

6800
5

1,000,000,000

Alz

50 x Chloe's Token

Bike Slot Converter (Lv 2)

4 x

Material Core (Bike)

40 x Force Core (Piece)

10 x Force Core (Medium)

6900
5

600,000,000

Alz

30 x Chloe's Token

Bike Slot Converter (Lv 3)

4 x

Material Core (Bike)

40 x Force Core (Piece)

10 x Force Core (High)

6900
5

1,000,000,000

Alz

50 x Chloe's Token

Bike Slot Converter (Lv 4)

4 x

Material Core (Bike)

40 x Force Core (Piece)

10 x Force Core (Highest)

6900
5

1,400,000,000

Alz

70 x Chloe's Token

Bike Slot Converter (Lv 5)

20 x

Material Core (Bike)

200 x Force Core (Piece)

50 x Force Core (Ultimate)

6900
5

2,000,000,000

Alz

100 x Chloe's Token
7000-7999 Amity
Image
Item name
Reagent
Amity
Amity gain
Register cost
Force Core (High) x 5
80 x Force Core (Piece)
7000
4

112,500,000

Alz

6 x Chloe's Token

Unbinding Stone Cube (Highest)

3 x

Gem of Liberation

30 x Stain Clone

7000
5

500,000,000

Alz

25 x Chloe's Token

Minesta's Red Sapphire Charm
1 x Minesta's Sapphire Charm +7

60 x Stain Clone

7000
5

1,000,000,000

Alz

50 x Chloe's Token

Minesta's Green Sapphire Charm
1 x Minesta's Sapphire Charm +7

1 x Minesta's Emerald Charm +5

60 x Stain Clone

7000
5

1,000,000,000

Alz

50 x Chloe's Token

Minesta's Yellow Sapphire Charm
1 x Minesta's Sapphire Charm +7

60 x Stain Clone

7000
5

1,000,000,000

Alz

50 x Chloe's Token

Minesta's Blue Ruby Charm
1 x Minesta's Ruby Charm +7

1 x Minesta's Sapphire Charm +5

60 x Stain Clone

7000
5

1,000,000,000

Alz

50 x Chloe's Token

Minesta's Green Ruby Charm
1 x Minesta's Ruby Charm +7

1 x Minesta's Emerald Charm +5

60 x Stain Clone

7000
5

1,000,000,000

Alz

50 x Chloe's Token

Minesta's Yellow Ruby Charm
1 x Minesta's Ruby Charm +7

60 x Stain Clone

7000
5

1,000,000,000

Alz

50 x Chloe's Token

Minesta's Blue Emerald Charm
1 x Minesta's Emerald Charm +7

1 x Minesta's Sapphire Charm +5

60 x Stain Clone

7000
5

1,000,000,000

Alz

50 x Chloe's Token

Minesta's Red Emerald Charm
1 x Minesta's Emerald Charm +7

60 x Stain Clone

7000
5

1,000,000,000

Alz

50 x Chloe's Token

Minesta's Yellow Emerald Charm
1 x Minesta's Emerald Charm +7

60 x Stain Clone

7000
5

1,000,000,000

Alz

50 x Chloe's Token

Minesta's Blue Amber Charm
1 x Minesta's Amber Charm +7

1 x Minesta's Sapphire Charm +5

60 x Stain Clone

7000
5

1,000,000,000

Alz

50 x Chloe's Token

Minesta's Red Amber Charm
1 x Minesta's Amber Charm +7

60 x Stain Clone

7000
5

1,000,000,000

Alz

50 x Chloe's Token

Minesta's Green Amber Charm
1 x Minesta's Amber Charm +7

1 x Minesta's Emerald Charm +5

60 x Stain Clone

7000
5

1,000,000,000

Alz

50 x Chloe's Token

Minesta's Red Amethyst Charm
1 x Minesta's Amethyst Charm +7

60 x Stain Clone

7000
5

1,000,000,000

Alz

50 x Chloe's Token

Minesta's Green Amethyst Charm
1 x Minesta's Amethyst Charm +7

1 x Minesta's Emerald Charm +5

60 x Stain Clone

7000
5

1,000,000,000

Alz

50 x Chloe's Token

Minesta's Yellow Amethyst Charm
1 x Minesta's Amethyst Charm +7

60 x Stain Clone

7000
5

1,000,000,000

Alz

50 x Chloe's Token

Minesta's Blue Amethyst Charm
1 x Minesta's Amethyst Charm +7

1 x Minesta's Sapphire Charm +5

60 x Stain Clone

7000
5

1,000,000,000

Alz

50 x Chloe's Token

Minesta's Purple Sapphire Charm
1 x Minesta's Sapphire Charm +7

1 x Minesta's Amethyst Charm +5

60 x Stain Clone

7000
5

1,000,000,000

Alz

50 x Chloe's Token

Minesta's Purple Ruby Charm
1 x Minesta's Ruby Charm +7

1 x Minesta's Amethyst Charm +5

60 x Stain Clone

7000
5

1,000,000,000

Alz

50 x Chloe's Token

Minesta's Purple Emerald Charm
1 x Minesta's Emerald Charm +7

1 x Minesta's Amethyst Charm +5

60 x Stain Clone

7000
5

1,000,000,000

Alz

50 x Chloe's Token

Minesta's Purple Amber Charm
1 x Minesta's Amber Charm +7

1 x Minesta's Amethyst Charm +5

60 x Stain Clone

7000
5

1,000,000,000

Alz

50 x Chloe's Token

Upgrade Core (High) x 5
80 x Upgrade Core (Piece)
7100
4

112,500,000

Alz

6 x Chloe's Token

Force Core (Highest)
20 x Force Core (Piece)
7300
4

40,000,000

Alz

2 x Chloe's Token

Upgrade Core (Highest)
20 x Upgrade Core (Piece)
7500
4

40,000,000

Alz

2 x Chloe's Token

Chaos Core x 7
70 x Fragment of Chaos
7500
4

63,000,000

Alz

7 x Chloe's Token

Divine Stone

x 7
70 x

Fragment of Divine Core

7500
4

63,000,000

Alz

7 x Chloe's Token

Merit Medal Exchange Ticket x 10
10 x

Merit Medal Exchange Ticket (Char B)

10 x Merit Medal Trade Certificate

7500
5

150,000,000

Alz
Perfect Core (Medium) x 2
120 x Upgrade Core (Piece)

60 x Plasma Circuit

7700
5

3,750,000,000

Alz

188 x Chloe's Token

Slot Extender (Medium) x 2
120 x Force Core (Piece)

60 x Extender Circuit

30 x Force Core (Highest)

7700
5

1,750,000,000

Alz

88 x Chloe's Token

Perfect Core (High)
80 x Upgrade Core (Piece)

40 x Plasma Circuit

7900
5

7,500,000,000

Alz

375 x Chloe's Token

Slot Extender (High)
80 x Force Core (Piece)

40 x Extender Circuit

20 x Force Core (Highest)

7900
5

5,000,000,000

Alz

250 x Chloe's Token
8000-8999 Amity
Image
Item name
Reagent
Amity
Amity gain
Register cost
Force Core (Highest) x 5
80 x Force Core (Piece)
8000
4

60,000,000

Alz

2 x Chloe's Token

Upgrade Core (Highest) x 5
80 x Upgrade Core (Piece)
8200
4

60,000,000

Alz

2 x Chloe's Token

Perfect Core (High) x 2
120 x Upgrade Core (Piece)

60 x Plasma Circuit

8500
5

11,250,000,000

Alz

563 x Chloe's Token

Slot Extender (High) x 2
120 x Force Core (Piece)

60 x Extender Circuit

30 x Force Core (Highest)

8500
5

7,500,000,000

Alz

275 x Chloe's Token

Extreme Core Pocket (Unique)

2 x

Extreme Core (Lv 8)

2 x Extreme Core (Lv 9)

8500
4

60,000,000

Alz

4 x Chloe's Token

Chaos Core x 10
100 x Fragment of Chaos
8500
4

91,000,000

Alz

9 x Chloe's Token

Divine Stone

x 10
100 x

Fragment of Divine Core

8500
4

91,000,000

Alz

9 x Chloe's Token

Perfect Core (Highest)
80 x Upgrade Core (Piece)

40 x Plasma Circuit

8900
5

12,000,000,000

Alz

600 x Chloe's Token

Slot Extender (Highest)
80 x Force Core (Piece)

40 x Extender Circuit

20 x Force Core (Highest)

8900
5

15,000,000,000

Alz

750 x Chloe's Token