Professional Crafting
[
]
In the Part VIII: Arcane Trace update the whole crafting system underwent a total revision. There are various improvements and also some deprovements with it. It isn't nearly as flexible as the old system, but you can have better outputs and Proofs are no longer required nor are crafting level restrictions.
Below is an image with numerical lables. Below the image will be the description of what that is.
1. The Catagories of Crafting. See the complete list in next section.
2. Upgrading "level" of 1. Each level costs more to upgrade it to the next level. Each level higher raises your chances of crafting perfect crafts and success 1.
3. Select your item Grade and Craft option.
4. Total Energy you have to use. Each craft uses energy to make, so you are limited from spamming dozens in only a few minutes.
5. Energy cost and Amity points earned for each craft. Note: Energy Regenerates at a rate of 5/minute
6. This is all the crafting materials required for each craft.
7. This is the Crafting progress bar. It's pretty much only a few seconds long for all crafts though.
1There are 3 possible options for crafts. The can be Craftsman's, Craftman's (High Success), and Master's.
Craftsman's
Craftsman's (High Success)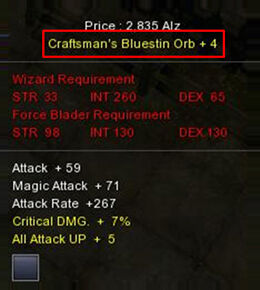 Master's
Crafting Catagories
[
]
Craftsman
[
]
Instead of individual catagories, there are now individual choices.
Now you may choose up to 6 crafting choices. By default, it kept the 4 that you had prior to the update (i.e. If you did Sword it carried over all the sword types) if you had chosen a profession.

| | | | |
| --- | --- | --- | --- |
| Katana | Blade | Daikatana | Greatsword |
| Plate | Gauntlet | Greave | Visor |
| Coat | Gloves | Boots | Battlehelm |
| Battlesuit | Hands | Shoes | Martialhelm |
| Orb | Crystal | Ring | Amulet |
Rings and Amulets are highlighted because they craft slightly different than the rest.

All non highlighted simply gather materials to craft what you want according to it's required materials.
Here's a basic table of which types of crafts have what options.
Type
Suits (All)
Gloves (All)
Boots (All)
Helms (All)
Weapons (All)
Amp
Defense
Amp
Defense
Amp
Defense
Crit Rate
Crit DMG
Amp
Crit Rate
Crit DMG
Craft option
All Amp
Defense
All Amp
Defense
All Amp
Defense
Crit Rate
Crit DMG
All Amp
Crit Rate
Crit DMG
High Success Addition
HP
All Amp
Resist Crit Rate
All Amp
Resist Amp
All Amp
Resist Crit DMG
Resist Crit DMG
All Atk
All Atk
All Atk
Artifact
[
]
The two artifact crafts of Rings and Amulets both require an extra step to craft.

First a craftsmans ring or amulet must be crafted. They then use the craftsman ring or amulet as the amulet source for the actual crafts.
Master
[
]
Master's crafts are the best of the best. They require 2-slot, Craftsman's (High Success) items, Astral Material Cores, Force Core Pieces, Upgrade Core Pieces and Discs.
The outcomes have 3 options tied to them and are either 1-slot or 2-slot results.
The Additional stat added onto Craftsman's items is usually Amp, or resist DMG/Rate/Amp. Gloves and suits add Max Crit Rate.
Here's a basic table of which types of crafts have what options.
Type
Suits (All)
Gloves (All)
Boots (All)
Helms (All)
Weapons (All)
Amp
Defense
Amp
Defense
Amp
Defense
Crit Rate
Crit DMG
Amp
Crit Rate
Crit DMG
Craft options
All Amp
Defense
All Amp
Defense
All Amp
Defense
Crit Rate
Crit DMG
All Amp
Crit Rate
Crit DMG
HP
All Amp
Resist Crit Rate
All Amp
Resist Amp
All Amp
Resist Crit DMG
Resist Crit DMG
All Atk
All Atk
All Atk
Max Crit Rate
Max Crit Rate
Max Crit Rate
Max Crit Rate
HP Steal per Hit
HP Steal per Hit
All Amp
All Amp
Crit Rate
Crit DMG
All Amp