Jurassic World: Dominion Dominates Fandom Wikis - The Loop
Play Sound
Introduction
[
]
Pets follow you around and provide additional options to your character depending on how they have been trained. They can be leveled up to improve the bonuses given to your character. At max level they change their appearance.
Acquiring
[
]
Pets are obtained in two ways:
Purchased through the cash shop.
Traded in game.
When you acquire a pet it is "asleep". Only pets that are asleep can be traded. To equip the pet it must be activated by right clicking the pet, doing so will make the pet account bound. To "sleep" an activated pet and enable it to be traded a Pet Sleeping Kit must be purchased from the cash shop and used on the pet.
Equipping
[
]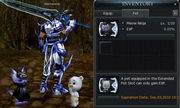 Activated pets are equipped by moving them to the pet equip slot. You can equip up to 2 pets simultaneously if you purchase a Pet Slot Extender from the cash shop. Only the attributed of the pet in the equipped slot will benefit your character. Both pets will gain pet experience.
Leveling
[
]
Pets begin at level 1. As you attack monsters in the game you accrue Pet EXP. Any pets you have equipped will gain the pet experience and level up. The maximum level is 10. At level 10 the pet will change appearance. The rate of gaining pet experience can be improved using blessing beads or pet experience beads as well as pet experience runes. Pet experience is also now gained attacking training dummies.
Training
[
]
Main Page: Option Granting System
Pets can train empty training slots to gain attributes for the character. The number of training slots is equal to the pet level.
Attributes
[
]
Offensive

| Icon | Effect |
| --- | --- |
| | Attack +5 |
| | Magic Attack +5 |
| | Attack Rate +30 |
| | Critical Damage +2% |
| | Critical Rate +1% |
| | Max Critical Rate + 1% |
| | Sword Skill Amp +1% |
| | Magic Skill Amp +1% |
| | Additional Damage +5 |

Defensive

| Icon | Effect |
| --- | --- |
| | Defense +3 |
| | Defense Rate +30 |
| | Flee Rate +1% |
| | Resist Critical Rate 1% |
| | Resist Critical Damage 2% |
| | Resist Unable to Move 1% |
| | Resist Down 1% |
| | Resist Knockback 1% |
| | Resist Stun 1% |

Other

| Icon | Effect |
| --- | --- |
| | HP +30 |
| | MP +30 |
| | HP Absorb 1% |
| | MP Absorb 1% |
| | Max HP Absorb +5 |
| | Max MP Absorb +5 |
| | HP Regen +3 |
| | MP Regen +3 |
| | Skill EXP +2 |
| | Alz Drop +10% |
| | Two-slot drop +100% |
Gallery
[
]
There are a wide variety of pets available
Angela
Level 1~9
Level 10
Charisma Pan
Level 1~9
Level 10
Cha Cha
Level 1~9
Level 10
Cookie
Level 1~9
Level 10
Crag Turtle
Level 1~9
Level 10
Cutie Lai
Level 1~9
Level 10
Cutie Tai
Level 1~9
Level 10
Dire Boar
Level 1~9
Level 10
Elder Troglo
Level 1~9
Level 10
Fancy Zard
Level 1~9
Level 10
Fortune Pig
Level 1~9
Level 10
Garlie
Level 1~9
Level 10
Gentle Parrot
Level 1~9
Level 10
Giant Beetle
Level 1~9
Level 10
Golden Fortune Pig
Level 1~9
Level 10
Golem Jr
Level 1~9
Level 10
Husky
Level 1~9
Level 10
Littly Gry
Level 1~9
Level 10
Little Jack
Level 1~9
Level 10
Little Pery
Level 1~9
Level 10
Mantis
Level 1~9
Level 10
Meow Ninja
Level 1~9
Level 10
Mummy
Level 1~9
Level 10
Nipperlug
Level 1~9
Level 10
Peng
Level 1~9
Level 10
Pinky
Level 1~9
Level 10
Rabbithorn
Level 1~9
Level 10
Red Garlie
Level 1~9
Level 10
Roborobo
Level 1~9
Level 10
Rudolph
Level 1~9
Level 10
Troglo Warrior
Level 1~9
Level 10
Troglo
Level 1~9
Level 10
Woolly
Level 1~9
Level 10
Worry Bear
Level 1~9
Level 10
Armaku
Level 1~9
Level 10