A bird which has horns similar to those of a deer and attacks enemies, using them while in flight. Peryton+ is the stronger version of Peryton with purple feathers. Peryton+ is located at the same area as Peryton.
Peryton/ Peryton+

Level
54/ 59
HP:
1318/ 2870
Type:
Aggressive
Location:
Port Lux
Range or Melee:
Short Range or Melee
Location on Map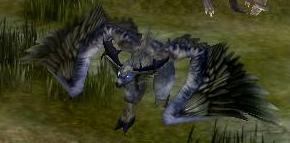 Community content is available under
CC-BY-SA
unless otherwise noted.