Maquinas Outpost
Details
Entry Item:

Hacked Code Disk
Character
Level:
145 ~ 180
Duration:
6m40s + Extra time given for mob kills
Reward for
completion:
10 Dungeon Points
Penalty for
failure:
None specified
Mob respawn time: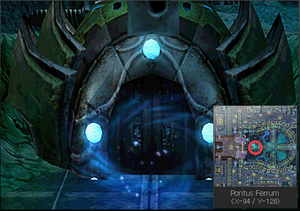 Introduction
[
]
Maquinas Outpost, also known as "MO", is the most difficult dungeon in the game. You're given a generous amount of time to complete the dungeon, however, time is always of the essence. A full party of 7 people is recommended including 1 of each of the following classes: Warrior, Wizard, Force Blader, Force Archer.
One aspect of this dungeon that is unique is the time of the dungeon is not fixed. The dungeon begins with 7 minutes on the clock. As you kill monsters and bosses you are given bonus time added. In some cases killing some monsters will remove time.
Related Quests
[
]
Drops
[
]
Some of the better items that can drop in this dungeon include:
Drei Frame, +8, SIGMetal Epaulets
Drei Frame armor, Perfect crafted Forcium weapons and armor
For a summary of drops see: Maquinas Outpost Drops
A comprehensive drop table from EST is found at: Maquinas Outpost Drop Table
Monsters
[
]
Bosses
[
]
Video Walkthrough
[
]