Warp-Code
[
]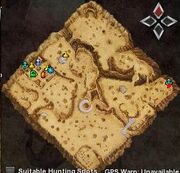 To receive the warp-code for this map, the player must complete the following quests:
Will Remains as a Fossil (Lv 96)

The_Ruins_of_the_Honorable_Age (Lv 95)
Additional Information
[
]
This area is the first available that is a war zone. You get 1 honor point for each mob kill. Other people's names from opposing nations (Capella/Procyon) appear as colored numbers.
Neutral: If you want to party with anybody, be sure to party up before you enter because everything else is hostile.
Procyon or Capella: If you chose a side, you can interact with the other people who also chose your side. For the opposing side, their name will appear red and can attack you. Neutrals can attack you as well and their name appears orange .
NPCs
[
]
There are no NPCs in this map.
Drops
[
]
Shadowtitanium and Osmium grade armor and weapons are dropped by the monsters in Forgotten Ruin.
A comprehensive drop table provided by ESTsoft is found at: Forgotten Ruin Drop Table
Monsters
[
]
Boss
[
]