Introduction
[
]
Dungeon Points (DP) are accumulated by completing dungeons. You can use the points to purchase various items from DP Exchange NPC Patricia in Port Lux. You may accumulate a maximum of 100 points at a time before exchanging them. The points reset after 3 hours after the completion of the last dungeon so it is important to exchange them before they reset.
Accumulating Points
[
]
Points are rewarded upon completion of dungeons. The number of points is based upon the difficulty of the dungeon.
Exchanging Points
[
]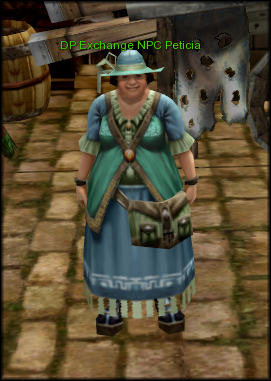 Once you have accumulated points, you can exchange the points for items from DP Exchange NPC Peticia in Port Lux.
There are three types of items:
Image
Name
Grade
Req. DP
Purchase Req.
Usage Req.
Cube of Experience
Low
5
Lv. 120
Lv. 120
Medium
10
High
25
Highest
70
Cube of Soul
Low
3
Medium
10
High
25
Highest
50
Cube of Enchant
Premium
120
-
-
Cube of Fame
Low
5
Honor Class 9+
-
Medium
10
High
15
Hightest
20
Potion Cube
-
10
-
Cube Rewards
[
]
Depending on the grade of cube different rewards are possible and selected randomly similar to the Mission War Buff Capsule.
Note: Slot extender reward type depends on the grade of the Cube of Enchant.
Grade
Cube of Experience
Cube of Soul
Cube of Fame
Cube of Enchant
Cube of Protection
Potion Cube
EXP
AXP
Honor
Item
Max Obtainable Quantity
Item
Max Obtainable Quantity
Item
Max Obtainable Quantity
Low
2M
3M
30,000
Core Enhancer, Core Superior, Enchant Safeguard, Perfect Core
1
Protection of Veradrix
2~10
Holy Water of Fighter, Holy Water of Sage, Heroic Holy Water, Holy Water of Vitality, Holy Water of Speed, Holy Water of Traveler, Holy Water of Critical Strike, Holy Water of Resistance, Extreme Holy Water, Holy Water of Flawless Defense
1
4M
6M
60,000
12M
18M
90,000
24M
36M
120,000
Medium
4.2M
10.5M
60,000
8M
20M
120,000
24M
60M
240,000
48M
120M
480,000
High
11M
27.5M
120,000
20M
50M
240,000
60M
150M
480,000
120M
300M
960,000
Highest
32.2M
57.5M
240,000
56M
100M
480,000
168M
300M
960,000
336M
600M
1,920,000
Premium
-
-
-