Catacomb Frost

Location of Catacomb Frost in Bloody Ice (219,184)

Details
Entry Item:

Frozen Clue
Character
Level:
110 ~ 180
Duration:
25min
Reward for
completion:
1 ~ 3 Dungeon Points
Penalty for
failure:
None specified
Mob respawn time: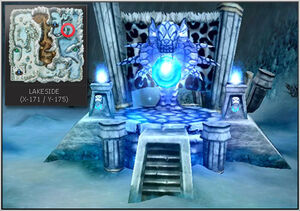 Introduction
[
]
All DX dungeons must be attempted solo. There are 3 levels of difficulty to choose from: Easy, Normal, Hard. The quest line is unchanged with difficulty level the only difference is the monsters increase in strength.
Drops
[
]
The quality of drops depend on difficulty level. Some of the better items that can drop in this dungeon include:
Perfect craft Osmium, Redosmium, SIGMetal and Forcium grade armor and weapons.
+7, +8 Epaulets
Slot Extender [High / Highest]
Superior Core [High]
Normal Item Drop
[
]
Upgrade Core [Highest] , Upgrade Core [High]
Force Core [High] , Force Core [Highest]

A comprehensive drop table is found at: Catacomb Frost Drop Table
Monsters
[
]
Boss
[
]
Video Walkthrough
[
]